The Molotov of Rovia
Boss Info
VRMMORPG
Sword Art Online
Quest
The Fall of Molotov
Status
Killed, Can not respawn
Appearance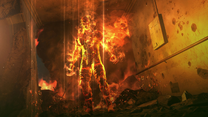 The Molotov Of Rovia looks like a Man on Fire, covered in flames.
Background
The Molotov of Rovia is protector of the Rovia Castle.
Chronology
Sword Art Online: Beyond the Front Lines (Sword Art Online Arc)
Abilities
Has the ability to set anyone who touches him on fire causing 20 HP damage every 24 seconds.
Item Drops
Known Challengers
Sean Michalek (SeanCityNavy)
Mayden Dutton (Sayori Maple)
Sachiko Yuua (Sachi_Yua)
Kills
Several NPC's
Gallery
Trivia
Community content is available under
CC-BY-SA
unless otherwise noted.