---
You need permission from the Administrators to edit this page
---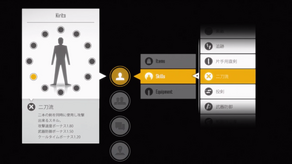 «Skills»
are features/abilities a player can use in a game. These can be trained and leveled up to gain perks or abilities for the skill. There are various types of skills in the game including: Sword Skills, General Skills, Unique Skills, Outside System Skills, Original Sword Skills and Extra Skills.
In general, skills must be equipped in a limited amount of skill slots. Skills may be trained up to level 1000, at which it is considered «Complete».
Unique skills of weapons are not included here. This is a list of common skills of players.
The following is a list of skills ordered alphabetically.
List of General Canon Skills in VRMMOs
List of General Skills in Canon can be found here: Skills.
List of Fanon Skills
Support Skills
Combat Skills
Community content is available under
CC-BY-SA
unless otherwise noted.