Obsideon
Personal Info
Name
César Martínez
Kanji
セザール マルティネス
Birthday
5th July
Age
25 (23 pre-SAO)
Gender
Male
Height
197 cm (6'5½")
Weight
118 kg (260 lbs.)
Eyes
Brown
Hair
Brown
Place of Residence
Ciudad Bolívar, Bolívar State, Venezuela
Occupation
Chef
Marital Status
Engaged
Family
María Cruz - Fiancé
Familia Martínez (Martínez family)
Player Profile
Display Name
Obsideon
Kanji
オブシデオン
Romanji
Obushideon
Epithet
The Mountain
VRMMORPGs Played
Sword Art Online
Occupation
Clearer
Affiliation
The Golden Lions
Base of Operations
The Lion's Den Pub
Status
Active
Skills
Primary Skill
Unarmed
Unique Skill
Titan's Fist
Media
Appearance
Reality / Sword Art Online
Sword Art Online Avatar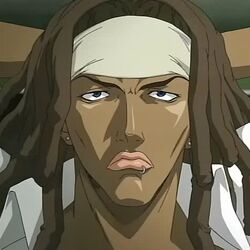 Personality
The strong silent type.
Background
Chronology
Sword Art Online
Relationships
Abilities
Sword Art Online
Main Equipment
Skills
SAO SKILL SLOTS
Hand-to-hand Combat
Titan's Fist
Block
Stamina
Strength
Battle Healing
Howl
Entrench
Meditation
Deathward
Fishing
Cooking
Martial Arts

Embracer - (1-hit strike) An unarmed skill that pierces the enemy with the fingers.
Flash Hit - A basic skill that allows the user to deliver a quick blow to an enemy. If taken by surprise, the enemy may be staggered.
Notable Achievements
First player to master Hand-to-hand Combat, Block, and Stamina, earning him the Unique Tank Skill Titan's Fist.
Trivia
Community content is available under
CC-BY-SA
unless otherwise noted.